Mono Lake and Arsenic References
By Ron Oremland, USGS
All posted with permission. Click on the document image to view the PDF, or in the list of additional references below the images.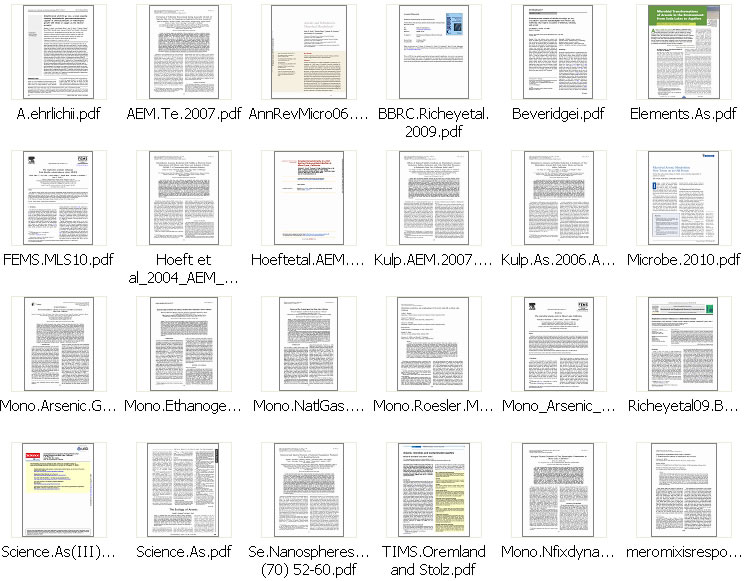 Switzer Blum, J., A. Burns Bindi, J. Buzzelli, J.F. Stolz, and R.S. Oremland. 1998. Bacillus arsenicoselenatis sp. nov., and Bacillus selenitireducens sp. nov. : two haloalkaliphiles from Mono Lake, California which respire oxyanions of selenium and arsenic. Arch. Microbiol. 171: 19 – 30. (abstract is free)
Joye, S.B., T.L. Connell, L.G. Miller, R. Jellison, and R.S. Oremland. 1999. Oxidation of ammonia and methane in an alkaline, saline lake. Limnol. Oceanogr. 44: 178 - 188. (free)
Connell, T.L., S.B. Joye, L.G. Miller, and R.S. Oremland. 1997. Bacterial oxidation of methyl bromide in Mono Lake, California. Env. Sci. Technol. 31: 1489 - 1495. (Website down when attempted to retrieve)
Visscher, P.T., J.R. Guidetti, C.W. Culbertson, and R.S. Oremland. 1996. Dimethylsulfoniopropionate as a potential methanogenic substrate in Mono Lake sediments. P. 361 - 368 in R.P. Kiene, P.T. Visscher, M.D. Keller, and G.O. Kirst (eds), Biological and Environmental Chemistry of DMSP and Related Sulfonium Compounds. Plenum Press, N.Y. (textbook)
Steinberg, N.A. and R.S. Oremland. 1990. Dissimilatory selenate reduction potentials in a diversity of sediment types. Appl. Environ. Microbiol. 56: 3550-3557. (free)
and more from similar lakes...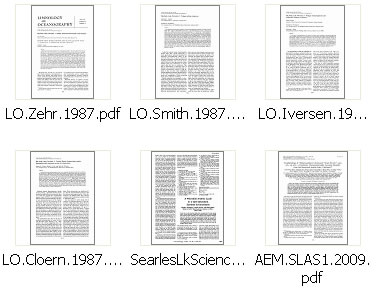 Oremland, R.S., L. Marsh, and D.J. Des Marais. 1982. Methanogenesis in Big Soda Lake, Nevada: An alkaline, moderately hypersaline desert lake. Appl. Environ. Microbiol. 43: 462-468. (free)

Cloern, J.E., B.E. Cole, and R.S. Oremland. 1983. Seasonal changes in the chemical and biological nature of a meromictic lake (Big Soda Lake, Nevada, USA). Hydrobiologia. 105: 195-206. (abstract is free)

Oremland, R.S. 1983. Hydrogen metabolism by decomposing cyanobacterial aggregates in Big Soda Lake, Nevada. Appl. Environ. Microbiol. 45: 1519-1525. (free)

Cloern, J.E., B.A. Cole, and R.S. Oremland. 1983. Autotrophic processes in Big Soda Lake, Nevada. Limnol & Oceanog. 28: 1049-1061. (free)

Oremland, R.S. and D.J. Des Marais. 1983. Distribution, abundance, and carbon isotopic composition of gaseous hydrocarbons in Big Soda Lake, Nevada: An alkaline, meromictic lake. Geochim. Cosmochim. Acta. 47: 2107-2114. (abstract is free)