If you have GIS data or know of GIS data on the Mono Basin, please email us at

!

B

elow is a partial listing of what GIS data exists covering the Mono Basin, who has it, and how it is accessible.

DIRECT LINKS TO DATA SOURCES

Mono Basin plant collection locations by Tom Schweich

USGS contacts:

Carol Ostergren
US Geological Survey National Geospatial Program
3020 State University Drive East, Suite 4003
Sacramento, CA 95819
916-278-9510
916-278-9473 (fax)
costergren at usgs dot gov

Drew Decker
USGS Geospatial Liaison for California
NSDI Partnership Office, U.S. Geological Survey
4165 Spruance Road, Suite 200
San Diego, CA 92101
619-225-6430
619-417-2879 cell
619-225-6101 fax
ddecker at usgs dot gov


National Atlas Raw Data Download / Map Maker

USGS Earth Explorer - Download aerial photo mosaics and more!

National Aerial Photography Program

USGS Seamless Data Distribution System - download DEMs

Eastern Sierra Interagency Land Tenure Project - examining land ownership adjustment opportunities

Web Soil Surveys / Soil Data Mart - NRCS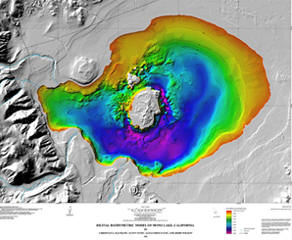 Eastern Sierra Geospatial Data Clearinghouse - a project of WMRS (White Mountain Research Station) and ESGN (Eastern Sierra GIS Network). Metadata
California Spatial Information Library - California GIS maps online
CERES Geofinder
California Digital Conservation Atlas
USGS Digital Bathymetric Model of Mono Lake, California
Landsat / Bathymetric Map of Mono Lake, by Christian Raumann, USGS. An example of some of the graphics not published with the bathymetric map above.
USFS - Inyo National Forest
List of data sets

(14K)
Contact: Laurie Otterman
Cartographic Technician
Bishop, CA
(760) 873-2400
August 26, 1998 Mono Lake Shoreline Map (1MB)
Contact: Tom Potter, GIS Analyst
Geometronics, Public Use and Facilities
USDA Forest Service, Region 5
1323 Club Drive
Vallejo, CA 94592
(707) 562-8893
thomaspotter@fs.fed.us
USFS - Pacific Southwest Region
GIS Clearinghouse
BLM - Bishop Resource Area
Bishop, CA
(760) 872-4881
LADWP
Eastern Sierra Environmental Issues
(213) 367-1128
Mapquest
Free digital USGS topo maps of the Mono Basin
Microsoft Terraserver
Black and white photo mosaic of the Mono Basin
Mono County Geographic Services
Parcel Viewer
List of data coverages

(13K)
Contact: Nate Greenberg or Dustin Clark
P.O. Box 1121
Mammoth Lakes, CA 93546
(760)924-7746
Talon Associates
List of resources for the Eastern Sierra Nevada Region
Contact: Nate Greenberg: nate @ talonassociates.net
P.O. Box 1121
Mammoth Lakes, CA 93546
(760)924.7746
California Fire and Resource Assessment Program
List of data available
California State Lands Commission
GIS data available - Mostly coastal resources, except National Wetlands Inventory for California.
Sierra Nevada Ecosystem Project
Digital Spatial Data Archive
Digital Spatial Data Catalog
Map/Data Site
SAGEMAP - A GIS Database for Sage Grouse and Shrubsteppe Management in the Intermountain West
Fairchild Aerial Photography Collection at Whittier College
1929, 1930, and 1954 photos of the Mono Basin
PhotoMapper Aerial Photos of Mono Lake and Tributary Streams
1999 color-infrared
2000 color
2001 color
2002 color
Contact: IK Curtis (818) 842-5127
Worldwind - NASA 3D landscape visualization program
Google Earth - 3D aerial photos
Cartograph.com - NetMAP Online GIS Network
USGS
Internet Data Sources
GIS Data for Water Resources
The largest free geo-spatial data repository on the web
www.GisDataDepot.com
GIS.com
Links to GIS data sources
The Geography Network
Links to GIS data sources
California Environmental Information Catalog
Metadata records by catalog title
ArcData Online
GIS data on the Web